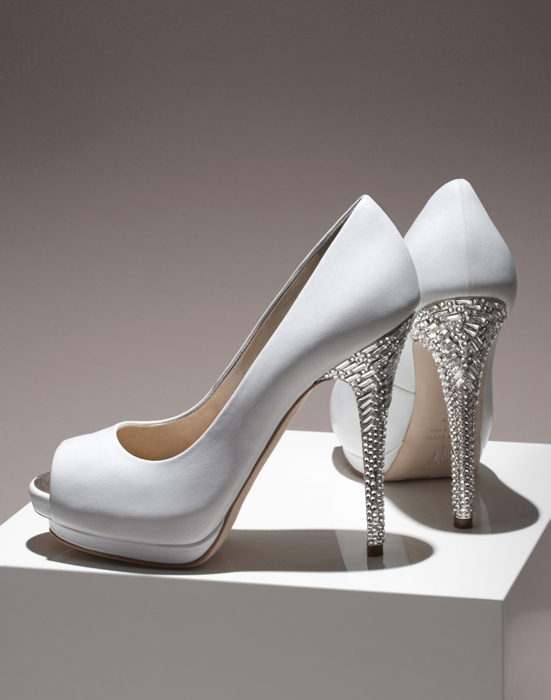 Collezione Giuseppe Zanotti
Quante paia di scarpe avete nel vostro armadio?
Le scarpe, insieme alle borse, sono gli accessori più amati dalle donne.
Pensate a quanto difficile potrà essere la scelta delle scarpe da sposa!
La scelta è vastissima. Scarpe da sposa per ogni stagione, semplici e lineari o decorate con strass o cristalli, alte o basse.
Gli stilisti ne propongono di ogni tipo e per ogni gusto e stile.
Il must per l'estate è sicuramente il plateau con tacco a stiletto per un look molto glamour.
Loriblù propone delle nuance delicate, come il rosa pesca o il verde acqua impreziosite con cristalli e pietre dure.
Naturalmente dovranno essere scelte comode e nello stile dell'abito da sposa.
Decoltè lineari e spuntate, in raso di seta impreziosite da strass luminosi sono la proposta primavera/estate  di Le Silla
Sergio Rossi vi offre una chicca: la posssibilità di personalizzare la scarpa nuziale con le vostre iniziali stampate sulla soletta interna, ed un piccolo cristallo blu incastonato all'interno per avere nel vostro wedding day "qualcosa di blu"
E voi di che scarpa siete?
***
How many pairs of shoes you have in your wardrobe? 
Along with handbags, the shoes are the accessories that women love more than all the others.
Think how will be difficult to choose the best bridal shoes!
The choice is very wide. Wedding shoes for each season, simple and linear or decorated with stones and crystals, high or low.
 The designers propose so many different models for each desire and style.
The "must" for the summer time is the plateau with stiletto heels for a glamorous look.
Loriblù  proposes delicate shades, like peach pink or water-green colour, embellished with crystals and semiprecious stones.
Of course, they must be comfortable and in harmony with wedding gown.
Linear and blunt décolleté, in silk satin embellished with bright crystals are the new proposal for next spring/summer by Le Silla
Sergio Rossi offers you a pearl: the possibility to personalise the bridal shoes with your initials printed on the inner sole, and a small blue crystal inside it to have something blue, in order to respect the tradition.
And you, what shoe are you?